Keep Production Moving
Cabinet door finishing made easy.
This versatile drying and handling rack will manage all your material handling needs. It's the perfect size for drying cabinet doors and parts in your finishing department. Load up all 50 shelves and roll it out of the way. Shelves can be removed to accommodate thicker materials, and longer items can be run through the shelves. Easy to assemble and disassemble for transport and storage.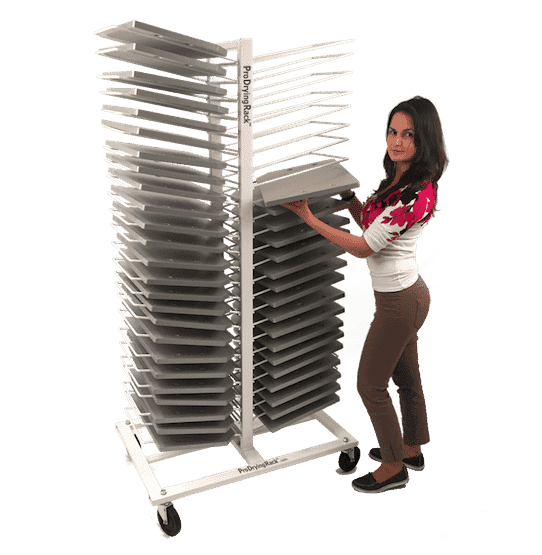 For All Material Handling Needs
Pro Drying Rack is ideal for professional cabinet makers, millwork shops, painters and renovators, woodworking enthusiasts, and DIY.
Millwork Shops
Space-saving storage streamlines production & finishing.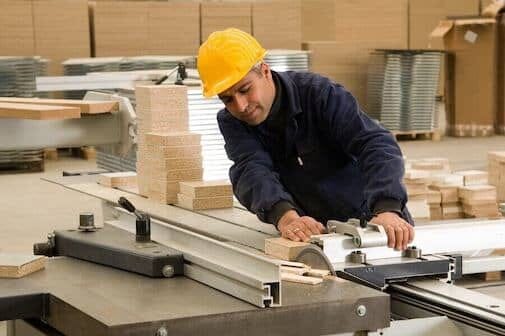 Painting & Renovation
Easy to assemble and disassemble for storage & mobility.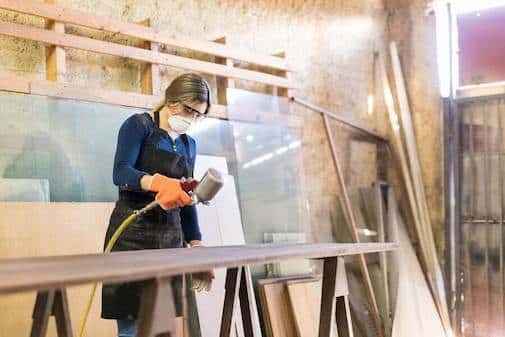 50-Shelf Cabinet Door Drying Rack
Speed up production with a compact vertical storage rack that holds up to 50 cabinet doors for drying. Industrial casters roll easily for moving or storing. Pro Drying Rack is ideal for professional cabinet makers, millwork shops, commercial painters and renovators, woodworking enthusiasts, DIY.
Cabinet Door Finishing Made Easy!
No longer walk around the part struggling with the 

spray

 hose to get the edges…  the all new 

SprayTwirly

 let's you spin the part with your non spraying hand to hit all the angles with ease. 
Using standard Paint Pyramids and magnetic holders, 

SprayTwirly

 adjusts to large and small cabinet doors.   Replaceable wooden dowels retract to control distance from the part.  Three strong metal arms minimizes the surface area beneath the part so overspray doesn't swirl beneath and contaminate the under side.
Must have products from our top sellers
But Don't Just Take Our Word!
TERRIFIC product!! This cool design is sturdy and has saved us hours of time moving cabinet doors around during various finishing stages- loved it so much we are buying a second!! Thanks guys for making my job easier!!
Fantastic! …and why I use 3 in my shop. Great way to stack doors coming off the door clamp then to the wide belt sander then to the finish room.
I own a cabinet refinishing business and have several of these wireline racks and have had them for years. I couldn't exist without these. They are versatile, easy to move around and can handle a very heavy load- even on one side.
Helps keep doors and drawer fronts from being damaged. Easy to find a door instead of having them stack on top of each other. Easy for moving from spray to hinging machine and then over to cabinets for installing.
Best cabinet parts rack on the planet. Been using these racks everyday for over 14 years and they still look and function GREAT. Over the years, a few of the shelves have sagged a little due to heavy pieces but still work great. Business has grown and I will be ordering 2 more very soon. No rickity racks here, these racks rock!!! Thanks
I love it!!!! After 23 year in Business, I found the masterpiece drying rack, so far I have three and already recommended to a few other painters, even a harwood floor company is interested to buy two. Worth the money.
We use these racks daily, they are a great tool to our production. We recommend this product, it has been so valuable to us. Thanks
Good product. Good price point. Painless to deal with.
Outstanding product. Heavy duty construction as described. Exactly what we were looking for to use for painted parts drying racks. Will be ordering more in the future.
I'm a decorative painter and 50% of my business is refurbishing kitchen cabinetry and built-ins. I had cabinet doors and drawer fronts EVERYWHERE!!!! It takes up so little space and even fully loaded it can easily be moved from one side of the room to the other. I've been wishing for something like this for a long time. Thank you so much